Downloading Sections from an AquaCalc 5000 using AquaCalc DataLink
The AquaCalc 5000 is an older device that uses the RS232 serial protocols to download data into a computer running the AquaCalc DataLink program. After installing DataLink, the user connects the AquaCalc 5000 to the computer with the AquaCalc Serial Download Cable. The settings in Datalink are changed for the AquaCalc 5000. The Windows COM port is identified. The data is manually downloaded. See the detailed instructions below, and contact AquaCalc Customer Support for more help. (support@aquacalc.com / +1 916-372-0534 ext 102)
For a more modern way of downloading measurements, we recommend using an AquaCalc Pro Plus, which has a USB connection, and works with DataLink to automatically identify and download measurements.
Using AquaCalc DataLink with the AquaCalc 5000
Install AquaCalc DataLink
AquaCalc DataLink is used to download the AquaCalc 5000. It can be installed from here:
http://aquacalc.com/Instruments/Downloads/AquaCalc_DataLink_Install/aquacalc_datalink_install.html
If your computer does not have an RS232 Port, you will need to buy an RS232 to USB adapter. AquaCalc LLC does not sell these adapters, but they are sold on line at Amazon.com. Different computers and operating systems can use different adapters .You may need to install the maufacturers USB driver.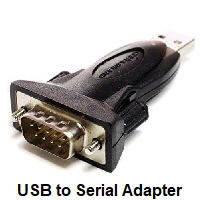 After installing DataLink, and installing the USB drivers, please note the RS232 Communications Port (COM) that Windows gives to the USB to RS232 adapter.
Set up DataLink
Open DataLink and click the "Settings" button.

Select "AquaCalc 5000" from as the AquaCalc Model Type.

Select the COM port of the USB to RS232 adapter from the drop down list (for example: COM4).

Set the Baud Rate to 9600.

Close the Settings window.

Click the Download button.

In the Download window check the model (AquaCalc 5000) and the COM port.
Set up the AquaCalc 5000
Please refer to the AquaCalc 5000 Instruction Manual "Connecting the AquaCalc to a Computer" and "Preparing the AquaCalc to Transfer Data" page 124 to 127.
Confirm Baud rate is 9600 (*96)

Press Menu key

Press 3=Upload

Press 2=Outputw/Comma

Press Enter key

Press Enter Key again
In DataLink
On the AquaCalc 5000
DataLink should receive the data and display on screen and prompt you to
Save the File and enter a filename.

You may review the measurement by clicking on the underlined blue filename link
Sample output can be found on pages 137 to 139 of the AquaCalc 5000 Advanced Stream Flow Computer Instruction Manual found here.
Note that DataLink does NOT show a graph or open the Report Viewer for the AquaCalc 5000. It will only show the CSV file.
Need Accessories or Cables?
We have replacement parts and cables for the AquaCalc line of stream flow computers including the Digital Pygmy Magnetic Head retro fit your old Pygmy Current Meter with a new digital magnetic sensor.
Find Accessories and Cables here.